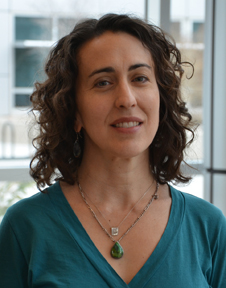 Abigail Reese is an RWJF Nursing and Health Policy Collaborative Fellow. Abigail is a Certified Nurse-Midwife and has been a member of the nurse-midwifery staff and a lecturer at the University of New Mexico Department of Obstetrics and Gynecology since 2009. At UNM, she maintains a full-scope nurse-midwifery practice, including maternity, well-woman, and specialized uro-gynecologic care. Passionate about women's health and improving outcomes for underserved women, Abigail has been actively involved in the clinical teaching of medical students, resident physicians, and nurse-midwifery students, and has a strong commitment to a multidisciplinary collaborative care model in women's health.
Abigail has an undergraduate degree in Cultural Anthropology and Latin American Studies from Princeton University, and a Master of Science in Nursing degree from Yale School of Nursing. After completing her midwifery training at Yale in 1998, Abigail worked at a freestanding birth center on the U.S.–Mexico border. Then she continued to serve a largely Mexican immigrant population at a community health center in Chicago, where she maintained both a hospital and home-birth practice. Later, Abigail gained state and federal health policy experience working for the Vermont Medicaid Program and the Northeastern Vermont Area Health Education Center, where she served as the coordinator of a federal women's health grant.
Abigail is enthusiastic about the opportunity to combine her diverse clinical practice experience with advanced academic training in health policy through the UNM College of Nursing PhD Program's health policy concentration. She strongly believes that nurse clinicians have an important role to play in addressing health disparities within the policy arena. In particular, her clinical and research interests converge around women, pregnancy, addiction, and the care of immigrant women. She is grateful to the Robert Wood Johnson Foundation Nursing and Health Policy Collaborative for providing resources, support, and access to an inspiring cohort of peers. Abigail intends to use this opportunity to obtain the skills and the forum needed to address health disparities that affect women in New Mexico and beyond.