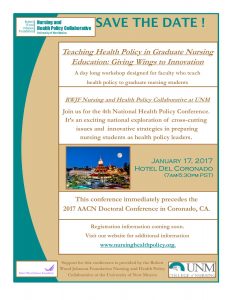 January 17, 2017
The fourth annual national health policy conference is coming and will immediately precede the January 2017 AACN Doctoral Education Conference at Hotel Del Coronado in Coronado, CA. Stay tuned to this page for details!
2017 National Planning Committee Members
Teaching Health Policy in Graduate Nursing Education:  Giving Wings to Innovation
A day long workshop designed for faculty who teach health policy to graduate nursing students.
Conference Description: This conference will bring together interprofessional hands-on with those who teach health policy to graduate nursing students. Participants will be exposed to teaching and learning promising practices on current and emerging health policy issues, within the larger U.S. health policy context. This will provide faculty with a deeper perspective to broaden their teaching tools of health policy issues and dynamics to then pass along these competencies to their students.  Attendees will be invited to share their own promising practices in teaching health policy live at the meeting and/or to add it to an electronic repository for all to use. Nurse leaders will leave with useful skills to analyze, influence and teach the policy making process at all levels to promote a culture of health.
Conference Objectives:
Broaden and build expertise in teaching and learning methods in graduate nursing education related to health policy.
Draw on interdisciplinary health policy experts to build mastery on current and emerging policy issues impacting health and health care.
Participate in ongoing sharing of 'best practices' into the national repository for teaching graduate level health policy to nurses.
Program Schedule
---
Tuesday  January 17,  2017 (Schedule Updated 1/5/17)

7:30 am – 8:30 am      Registration, Posters, and Breakfast (provided)
8:30 am – 9:00 am      Welcome and Introductions
Susan B. Hassmiller, PhD, RN, FAAN
Nancy Ridenour, PhD, APRN, BC, FAAN
9:00 am – 10:15 am    Keynote and Discussion: Positioning Nursing in Health Care Payment Reform
Speaker: David Lansky, PhD, CEO Pacific Business Group on Health
Moderator: Catherine Dodd, PhD, RN, FAAN
10:30 am – 11:45 am    How We Got Here: A Brief History of US Health Care Delivery
Speaker: Barbara Safriet, JD, LLM
11:45 am –12:45 pm   Lunch and Poster Session
12:45 pm –2:00 pm    Policy in Action
Moderator: Mary Foley, PhD, RN, FAAN
Panel:
Representative Gale Adcock, MSN, RN, FNP-BC, FAANP, FAAN
Cindy Crone, MSNc, APN, CPNP
Carolyn Montoya, PhD, CPNP, FAANP, FAAN
2:00 pm – 3:00 pm    Five Minute Best Practices in Teaching Health Policy
Moderator: Diana Mason, PhD, RN, FAAN
3:15 pm – 4:15 pm    Health Policy Boot Camp
Speaker: Michele Lueck President and CEO, Colorado Health Institute
4:15 pm – 5:00 pm    Closing Keynote: Building Community: Next Steps
Speaker: Deborah Trautman, PhD, RN, FAAN President and CEO, American Association of Colleges of Nursing
5:00 pm – 6:00 pm    Reception and Poster Session
Support for this conference is provided by a grant from the Robert Wood Johnson Foundation
---
Interested in programming and highlights from past conferences? Click on the links below to review past conference highlights! The links include information about speakers, topics, poster sessions, and more.
Conference Archive:
2016 National Planning Committee Members
2015 Nursing and Health Policy Conference Program Booklet