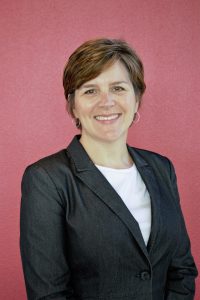 Elizabeth is an RWJF Nursing and Health Policy Collaborative Fellow. She has lived in New Mexico since 2007. Elizabeth is a public health nurse and worked in public health agencies at the federal, state, and county levels in California, Arizona, and New Mexico. She has worked as a generalist public health nurse, school nurse, diabetes educator, case manager, and director of public health nursing. Most recently, Elizabeth worked with the New Mexico Department of Health in family planning, STD prevention, childhood immunization programs, and school-based health centers. Since entering the doctoral program at UNM in 2013, Elizabeth has worked as a research assistant, providing support to research evaluating the integration of health policy within doctoral nursing education. Elizabeth is currently a teaching assistant for the master's-level research methods course at the College of Nursing.
Elizabeth entered nursing at the graduate level, earning a Master of Science in Nursing degree from Samuel Merritt College in Oakland, California, with a focus on case management. She holds a Bachelor of Science degree in business administration from California State University, Sacramento. Prior to nursing, Elizabeth worked in the fields of health insurance and financial planning, as well as in community health programs. She served as a Peace Corps Volunteer in Argentina and Guatemala.
Throughout her career in public health, Elizabeth's work in underserved communities has shaped her respect for how policy affects the health of a community. She believes the voice of a nurse leader is especially important during this time of tremendous change in our country's health care system. Elizabeth is excited to combine her love of public health with a focus on doctoral study in health policy. She is grateful for the opportunities granted to her through the Robert Wood Johnson Foundation fellowship. She hopes to focus her research on reproductive health education in adolescent populations in New Mexico and is interested in the effect of the Affordable Care Act on health disparities affecting underserved communities in New Mexico.