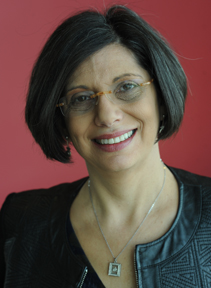 Laura Brennaman graduated from the RWJF Nursing and Health Policy Collaborative Fellowship with her PhD in Nursing in 2014. Working as a staff nurse, manager, and clinical educator in emergency departments for more than 25 years, Laura witnessed the catastrophic consequences of inadequate access and quality of health care for low-income and chronically ill people, especially those with mental illness. Repeatedly, she experienced the emergency department's inability to be the "safety net" for this vulnerable population. But solutions seemed beyond her grasp.
The goal of improving access to mental health care for people who rely on safety-net providers spurred Laura's pursuit of a PhD in nursing, concentrating on health policy, at the University of New Mexico. Having previously received an MSN degree from UNM, Laura already understood the college's online program and had studied under many of the nurse faculty.
As an RWJF Nursing and Health Policy Collaborative Fellow, Laura is pursuing research to improve access to behavioral health emergency and crisis care in Florida. This is a significant shift in focus for Laura, who for years honed her skills and expertise in critical care in emergency departments and intensive care units. She has negotiated an independent study, working with Dr. Annette Christy, Director of the Florida Baker Act Reporting Center and Associate Professor in the Department of Mental Health Law & Policy at the Louis de la Parte Florida Mental Health Institute at the University of South Florida.
Within the first 2 years of her full-time doctoral studies, Laura published an article with Dr. Marie Lobo about recovery from severe mental illness in the journal Issues in Mental Health Nursing. She has another manuscript under review at Archives in Psychiatric Nursing. Laura has also presented her research at the Western Institute of Nursing.
In addition to her doctoral studies, Laura is a regional mentor for the Emergency Nurses Association (ENA) National Screening Brief Intervention & Referral to Treatment Project to guide emergency nurses and departments throughout the nation in the implementation of effective alcohol screening and intervention processes. She was a 2008 mentee for the Academy of Emergency Nursing's Establishing Mentors Internationally for Emergency Nurses Creating Excellence program, studying the impact of triage education on emergency department patient flow. In 2005-2006, Laura was the site coordinator for three programs in ENA's LUNAR III research project to study emergency nurses' understanding and practice surrounding National Patient Safety Goals.
Laura is passionate about the professional advancement of nurses and nursing. She serves as adjunct faculty for Nova Southeastern University's BSN nursing program at the Fort Myers, Florida, campus, teaching undergraduate nursing students the fundamentals of nursing. She is also working to enhance the education of working nurses throughout the Southwest Florida region by serving on the Southwest Florida, Future of Nursing Taskforce.
In 2006, Laura completed a master's degree in Nursing Education at UNM, earning the Outstanding Graduate Student award from Sigma Theta Tau, Sigma Gamma Chapter, and the Graduate Academic Achievement Award from faculty. She has a BSN from the University of Kansas School of Nursing.