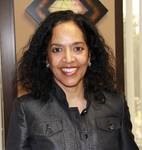 Maria Perez is a doctoral student in our health policy concentration. Originally from Puerto Rico, Maria has traveled all over the United States and Germany as a military dependent.  Maria's family settled in New Jersey where she attended Burlington County College. She then transferred to the University of Texas Health Science Center, San Antonio School of Nursing where she earned her BSN.  Maria worked as a staff nurse on a medical surgical unit, and after 15 years she joined a private practice as their head nurse for about 6 years.  Maria completed her Master of Arts degree in Health Services Management from Webster University, and for the past 24 years she has been working in a public school system.  The first 10 years she worked as a school nurse, and for the past 15 years she has been the nurse administrator. Currently, she is the Director of Health Services for The North East Independent School District, in San Antonio, TX.
The North East Independent School District employs 90 nurses who manage the needs of over 68,000 students.  The school district serves a high Hispanic population, and as a member of the National Association of Hispanic Nurses she has developed her skills in working with and assisting Hispanic families with resources to help them improve health outcomes. The leading cause of students visiting the school clinic is related to asthma issues.  Due to the high student absence rates among student with asthma problems, Maria's department has a full-time Asthma Educator to assist with educating students and families. As a member of the Texas School Nurse Administrators Association Maria has developed leadership skills that allow her to implement health related policies and procedures to improve student health. Her goal is to help families with appropriate resources that will assist them in managing their health, reduce illness, and improve outcomes.
Maria's educational and professional goals are to continue working with nursing students to develop their skills in community health as they train and work with school nurses.  She enjoys working with students, and upon completing her PhD in nursing with a concentration in Health Policy, would like to teach in a nursing program at both the undergraduate and graduate level.  Maria has already completed her training in Leadership Education in Neurodevelopmental and Related Disabilities, with an interest in continuing immunization legislative improvements.  As a member of The Immunization Partnership, Maria has assisted in following legislative changes that help individuals at a high risk remain protected from vaccine preventable illnesses.