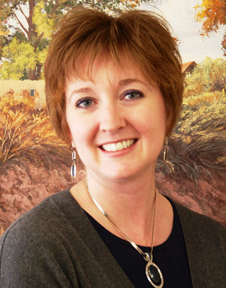 Nicole Adams is an RWJF Nursing and Health Policy Collaborative Fellow. A native of Albuquerque, Nicole attended Purdue University, where she earned a Bachelor of Science degree in Geology. She worked as an environmental geologist for the state of Indiana before deciding to return to school for her Associate of Science in Nursing degree at Indiana University–Purdue University in Indianapolis. She returned home to Albuquerque in 2005 and has worked in the Emergency Department, Medical Intensive Care Unit, and Float Pool, and as a nurse manager. She is currently working in the Emergency Department as a staff nurse. Nicole has worked in private not-for-profit hospitals, a public teaching hospital, and a VA hospital.
Nicole has a Master of Science in Nursing degree with a concentration in Administration from UNM and began pursuing her PhD in Nursing and Health Policy in May 2012. She received an RWJF Nursing and Health Policy Collaborative fellowship in 2013. She successfully defended her dissertation and received her PhD in Nursing with a Health Policy concentration in 2016.
In October 2013, Nicole presented a research poster at the American Academy of Nursing on the topic of the nurse practitioner workforce in New Mexico. In March 2014, she completed a four-week field placement at the Centers for Medicare and Medicaid Services in Baltimore, working with the Hospital and Ambulatory Payment Group. She is currently focused on health care economics, specifically health care cost and hospital payment systems. Her interests include the outcomes created by payment policies in vulnerable populations and the impact of health care finance on bedside hospital nurses and the care that they provide. Having spent her entire nursing career in hospitals, she would like to bring nursing and the realities of direct patient care into the national conversation on health care cost.