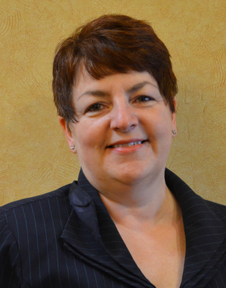 Patricia Gilman is an RWJF Nursing and Health Policy Collaborative Fellow. Pat is an advanced practice clinical nurse specialist specializing in cardiac critical care and populations with advanced cardiovascular disease. She grew up in rural Minnesota, where she graduated from high school, vocational school, and community college. She earned her bachelor's degree from Augsburg College and master's degree from Winona State University as a clinical nurse specialist in adult health. She has a diverse 38-year nursing career in both ambulatory and acute-care settings. Additionally, she is an educator, mentor, facilitator, adviser, and change agent in nursing education, research, and practice.
Pat has been instrumental in leading cardiac clinical nursing staff in a new research model that engages staff nurses in research at the bedside. Her research projects have included evaluating the effectiveness of structured patient education for fluid volume management in patients with heart failure and determining the relationships among body mass index, functional activity, and heart disease in a group of Franciscan Sisters in the Midwest.
Pat is a member of the American College of Cardiology, American Association of Critical Care Nurses, Pulmonary Hypertension Association, Emergency Nurses Association, and Sigma Theta Tau International. She is a strong advocate for advanced practice nursing and is active in the National Association of Clinical Nurse Specialists Legislative and Regulatory Committee and Cost and Outcomes Task Force at the local, state, and national levels. Since becoming a clinical nurse specialist, she has developed an interest in studying how advanced practice nurses can influence access to care and outcomes of care through nurse-managed clinics specializing in chronic cardiovascular diseases.
Pat and her husband of 37 years have two adult children and two grandchildren who live in Minnesota. When she is not engaged in professional activities, Pat spends her time performing music and working in stained-glass art.