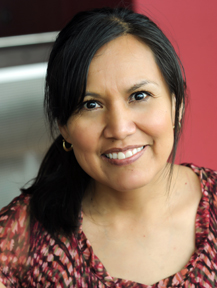 Regina Eddie is an RWJF Nursing and Health Policy Collaborative Fellow. As an enrolled member of the Navajo (Dine) Nation rooted in culture and tradition and experience as a public health nurse and program director for Indian Health Service, Regina possesses an in-depth knowledge and understanding of the many health issues and disparities affecting underserved populations in reservation communities. She has worked with the policy and delivery of health care for a newly tribal self-governed health care facility under the P.L. 93-638, Indian Self-Determination and Education Assistance Act.
In 2006, Regina used her experiences as a foundation for advancing her education and graduated with an MSN from Northern Arizona University. A year later, she found herself in a unique and rewarding role as a teacher, mentor and advocate, sharing her personal and professional experiences in working with underserved populations and facilitating nursing student clinical experiences on the Navajo reservation. This role further sparked a desire to continue her education.
Regina was accepted into the University of New Mexico's PhD in Health Policy program in May 2011 and received a RWJF Nursing and Health Policy Collaborative fellowship. Her research interests lie in the area of health promotion, specifically prevention of childhood obesity. This includes an assessment of the impact of current health policy gaps affecting American Indian communities and youth.
With a desire to help advance the health status of American Indian communities, including her own reservation communities, Regina feels that the mission of the Collaborative mirrors her own career and educational goals. In the future, Regina plans to further her leadership capacities, research and scholarly knowledge and skills.