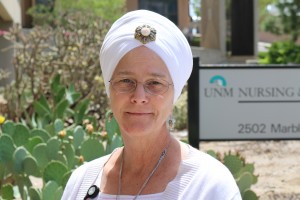 Siri GuruNam Kaur Khalsa is a doctoral student in our health policy concentration. Siri GuruNam has a passion for advocacy and the inclusion of vulnerable populations in the greater community, including access to appropriate health care, resources, and insurance. She has almost three decades of nursing experience in clinical, community, and academic settings, and believes that health policy makers need to understand the impact their decisions have on the welfare of vulnerable populations, and that community members should have an active voice in the health policy conversation prior to implementation.
Siri GuruNam's academic and professional experiences include: graduation from the program Partners in Policymaking (1995-1996); serving as the Santa Fe County parent liaison for New Mexico's Autism Program, including the creation of a parent support group in collaboration with Kathy McGunn, the Autism Specialist for the Santa Fe School District (1996-1998); serving as a host family for University of New Mexico medical students through Parents Reaching Out (1996-1999); and completion of a two-year fellowship with the NM Leadership Education in Neurodevelopmental and Related Disabilities Program (LEND) (2012-2013; 2014-2015). She has been a Board Member for the ARC of New Mexico for the last three years, and is currently a member of the New Mexico Nurses Association's (NMNA) Government Relations Committee. The NMNA has endorsed her in a yearlong mentored grass-tops program, the American Nurses Advocacy Institute, which will begin in August 2015.
Siri GuruNam completed her MSN in Nursing Education (2011) and her RN-BSN (2006) from the University of New Mexico.  She earned a diploma in nursing from Mount Carmel School of Nursing, Columbus, Ohio in 1986. Before her career in nursing, she worked as a research assistant for the Ohio State University Department of Agronomy in soil analysis of potassium and nitrogen on agricultural soils treated with sludge. She moved to Espanola, New Mexico with her husband in 1987 where they currently live with their two sons as members of the Sikh community. Her dissertation will focus on resilience qualities of families who raise children with developmental disabilities and chronic illnesses. Her research interests include disabilities and health care access issues, complementary and alternative therapies, and pre-licensure nursing student success.
When she is not working and going to school, she likes to garden, care for her bees, sew and do needlework, teach yoga and meditation, as well as cook for large groups of people.