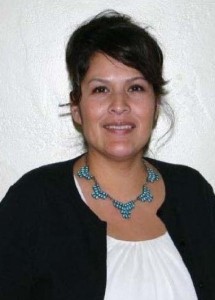 Stacie Laurence is an RWJF Nursing and Health Policy Collaborative Fellow. Stacie was born and raised on the Navajo reservation in the community of Smith Lake, New Mexico. She received her Master of Nursing degree, with a concentration in Administration, from the University of New Mexico in 2007. For the past 10 years, she has administered a home- and community-based program that provides services to disadvantaged disabled and elderly Medicaid clients. The diverse ethnicity, socioeconomic status, family dynamics, and beliefs of her clients have given her an appreciation for the pride and resiliency of this population, their families, and their communities, despite the barriers they face daily. They have taught her the true meaning of perseverance and the great strengths that are embedded within this culture. She believes that nurse leaders should be able to incorporate those strengths into the development of meaningful program development and intervention approaches.
To ensure that children, older adults, and disabled adults in New Mexican communities maintain access to services that meet their needs, Stacie has been involved in advocacy and dialogue with the administering state departments and the state legislature on policy changes and cost-containment initiatives. In her advocacy for continued funding of the Medicaid program, her hope is that the state and federal government will continue to provide access to services such as intervention and primary care through health promotion, disease prevention, chronic care management, and behavioral health. Stacie has served or currently serves on several committees, including the Coordination of Long-Term Services Advisory Committee, PCO Administrative Task Force Workgroup, Government Relations Committee for the New Mexico Association for Home and Hospice Care Board of Directors (of which she was co-chair), and several managed care organizations' provider advisory boards.
Stacie's educational and professional goals are to expand her knowledge through research and build a foundation that will enable her to provide nursing leadership and advocacy for the underserved populations whose healthcare needs are currently not being met. She plans to use this knowledge to influence health policy at the local, state, and federal levels to positively affect health outcomes. She believes the Robert Wood Johnson Foundation Nursing and Health Policy Collaborative will allow her the opportunity to network with researchers and nurse leaders as they embark on healthcare reforms at the state and federal levels and act as liaisons and advocates for health improvement, lobbying for funding and proposing and advising culturally appropriate research studies in American Indian communities. The challenge is to develop meaningful research and to document how these changes are beneficial to the health and well-being of the population. This undertaking will provide unique opportunities for nurses to develop evidence-based patient care, engage in research, influence policy, and serve in leadership and teaching roles.